BIKING + KAYAKING TO AMANTANI ISLAND
02Days Private Tour
RATES 2021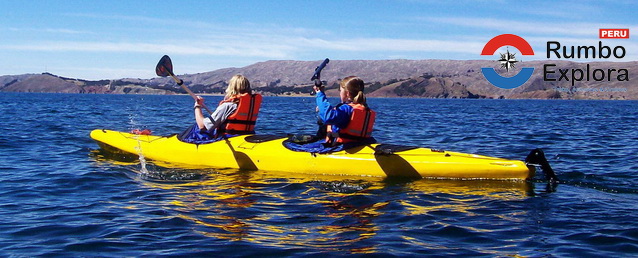 PRIVATE SERVICE
---
RUMBO EXPLORA have carefully selected the best options, Biking + Kayaking, with guided visits to Amantani & Taquile Islands, vía private motor boat, all year around. RUMBO EXPLORA offer you the possibility to make your transport reservation, due that not all transport companies have an automatic booking system. We will confirm your reservation within 24 hours.
02DAYS BIKING + KAYAK TO AMANTANI ISLAND
Private Tour

PRICE PER PERSON (SUPERIOR CLASS)

INCLUSIONS & EXCLUSIONS

US$00.00 (based on 02 persons)
Inclusions: Private transport hotel to Huata village, biking equipment, private motor boat, sea kayak equipment, experienced guide in kayaking in mayor lake, basic paddling instructions, guided visit to Amantani & Taquile islands, entrance fees, accommodation + all meals on Amantani Island, lunch on Taquile island. Note: Biking service starting in Huata village, kayak service starting in Chifron port.
US$00.00 (based on 03 persons)
US$00.00 (based on 04 persons)
US$00.00 (based on 05 persons)
On request 06 persons up
Pick-up from hotel: 7:30 – 7:45am
Starting of Kayak Tour: 08:00am
Return in Puno next day: 15:30pm. Then transfer to hotel.
Distance of paddle in kayak: 2.00 to 3.00km (en route to Amantani Island)
Duration of kayak activity: 1:00 to 1:30hrs paddling (one way)

ROUTE OF KAYAKING (Group Tour):


Departure point: Major lake (near Amantani island)
Arrival point: Amantani Island
First Aid Kit & Services:

Oxygen on board during the journey, first aid kit
02DAYS BIKING + KAYAKING TO AMANTANI ISLAND
Private Tour
DESCRIPTION OF ITINERARY:
DAY 01: PUNO – HUATA VILLAGE – AMANTANI: Early morning, a driver and guide will pick you up from the hotel in Puno (Peru), to take you to Huata village, which is located 37km from Puno city, where is waiting for you all biking equipment. A bike ride, pedaling about 1:30hours to 2:00 hours until Chifron port. Then a kayak ride from Chifron port to Amantani island, paddling about 2:00 hours. Upon arrival to Amantani Island the families will wait and escort you for your homestay as a warm welcome. Then a traditional lunch prepared with local products. Amantani Island is located 10km from Chifron port and 41 km away from Puno city, where live 4000 people. Year after year the inhabitants of Amantani Island have been struggling for a better quality of life, so this tour has been created to support the people of the island, receiving from them lodging, food and an unforgettable experience in the middle of the Lake Titicaca. In the afternoon hiking up to the top of the Island (4130m) from where you will observe the magnificent sunset on the Titicaca, the highest and navigable lake in the world, and visit the pre Inca temple Pachatata, with more than 3000 years old, built by Pucara and Tiawanaco cultures. Here we have the chance to dinner together with our host family. Overnight at family house.
DAY 02: AMANTANI ISLAND – TAQUILE – PUNO: Breakfast included at the Lodge. Then we visit Taquile Island, famous for its craft production (declared cultural heritage of humanity), particularly for its beautiful textiles. The people still practice the moral principles of Inca as "Ama Sua" (do not steal) "Ama Quella" (do not be lazy) and "Ama Llulla" (do not lie) that are still used among inhabitants. The island is about 1.5 km wide and 5.7 km length. Taquile Island was a prison during the colonial period, now a day live 2000 people approximately, where people wear a special hat for example regarding the single or married and authorities. On the Island there is a kindergarten, primary and secondary schools. Visiting non-tourist areas you will appreciate the pre Inca temples, tombs and agriculture terraces (built by Pucara culture), its landscapes, traditional farming techniques and their customs. This visit can be tired, because its 565 steps to walk down to the main port, but worth it. Lunch included on Taquile Island. Then a return trip of 2:30 hours by regular boat. Arrival in Puno around 15:30pm, then transfer to hotel.
---
WHAT IS INCLUDED: Private transport from Puno to Huata village, biking from Huata to Chifron port, private motor boat, kayaking from Chifron port to Amantani island, experienced guide in kayaking in major lake, basic paddling instructions, sea kayak equipment, entrance fees Amantani Island US$3, entrance fees Taquile Island US$3, all meals & accommodation on Amantani island, lunch on Taquile Island. Besides pre-trip information + organization and all local taxes. There are no hidden extras in our prices.
NOT INCLUDED: Additional charge for pick-up and drop-off for hotels located out of Puno city as Jose Antonio, Mirador del Titikaka and others. Drinks, extras and tips.
IMPORTANT: Our regular boat has 25 comfortable seats, velocity 08 knots + night navigation lights + oxygen & first aid kit + life jackets + lifebuoy + basic toilet on board + reclining seats + panoramic windows + telephone charger. Rumbo Explora provide to visitors all possible choices. Beware with illegal local Tour Operators or middleman, who do not pay the real costs to suppliers (transport, local restaurants & guest houses, tour guides & drivers). Help us avoid the explotation.
IMPORTANT NOTE:
You can see that in Rumbo Explora we have developed for you tailor-made itineraries with the best price as competitive as possible, providing an excellent service and paying our guides 10% above the legal wage agreed with the tour guides in Peru. Our staff are some of the best paid in Cusco & Machupicchu, Puno & Lake Titicaca, Arequipa & Colca canyon, Lima and Nazca & Paracas, which allows us to attract only the Best Tour Guides, Motor Boats and Land Transportation with national permit, to none other local company, that can only provide a cheaper price by providing a far inferior service and saving on staff costs, ¿How? Hiring tour guides in training without experience and not paying them, besides avoiding taxes to government.
Big Travel companies from Europe, North America, Australia and others work with the Peruvian Tour Operators located in Lima-Peru, who work as middlemen receiving from them good prices from the Tours & Packages, and paying to us 40 to 50% minor the normal price, besides 2 to 3 months delayed, being this the reason that Rumbo Explora have decided to offer tours & packages directly to travelers.
VISAS / PASSPORTS:
If you travel to Bolivia, visa is necessary for U.S Citizens and most other nationalities. If you hold a passport from another country, we will send all information necessary otherwise check with your local consulate or embassy about requirements for travel to Bolivia. All passengers traveling internationally are required to have a passport. Please carry proper identification on you and do not leave in your suitcase or hotel room. In most of places like airports, train-bus stations, frontier or at any other check points you must to show passport, because some countries have laws that require you to carry your passport with you at all times and anywhere. If you are in any doubt please contact the nearest Bolivian Embassy.